~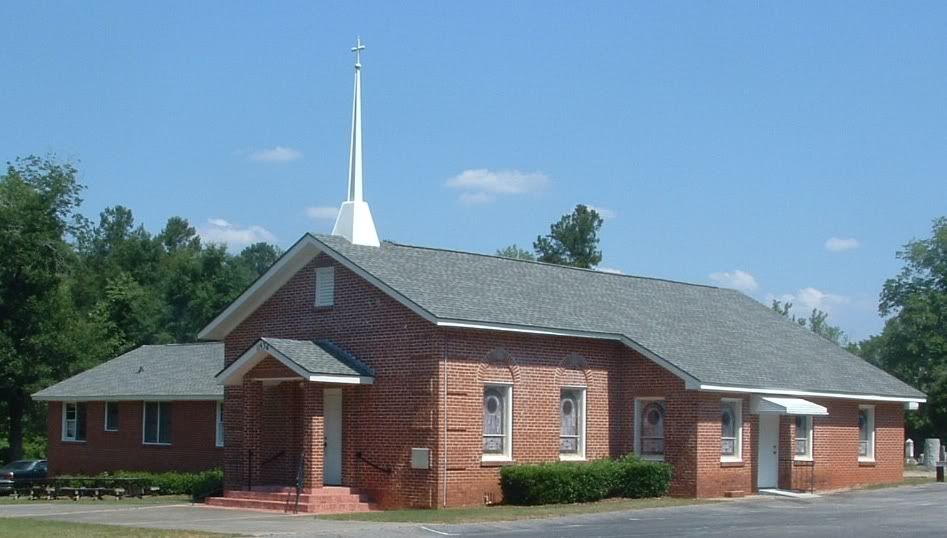 Salem Baptist Church; 11434 North Rd.; North, SC; GPS: 33.65103, -81.14929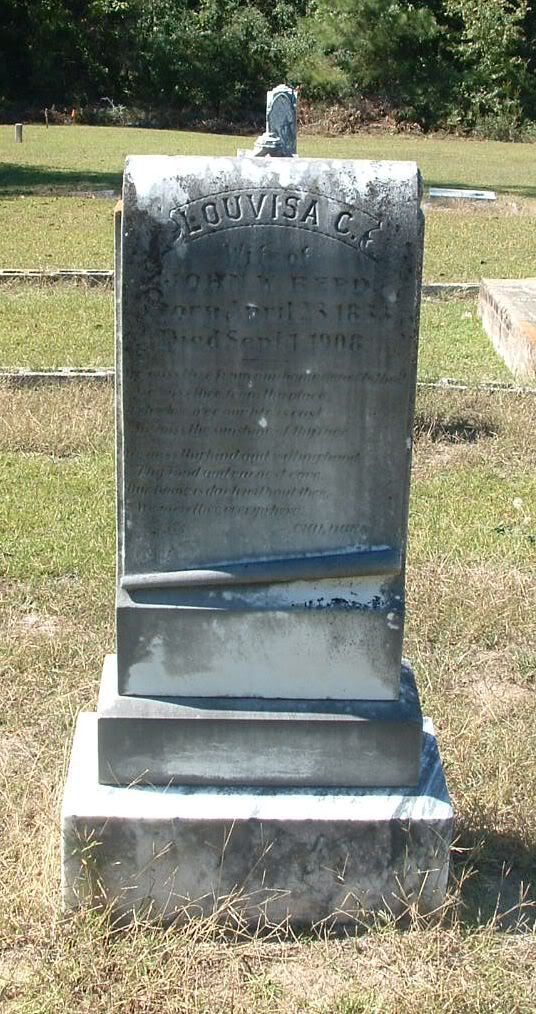 On Friday, October 7, my son Ian and I traveled to Lexington, Orangeburg, and Calhoun counties on our first graveyarding trip in a great while. We covered about 150 miles, visited 10 cemeteries, took 204 pictures, and encountered hundreds of sand spurs. Despite the sand spurs, it was one of our most successful trips to date. We found many relations on both sides of my grandparents Osborne and Carrie Reed's families, but I want to share with you what I consider to be the "find" of the day.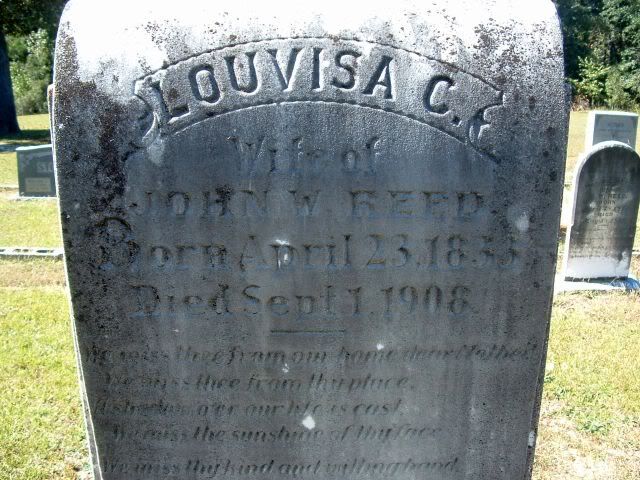 At Salem Baptist Church in North, SC, I was delighted to find the grave of Louvisa Clementine "Clemmie" Hair Reed!
Before this, I had no firm dates for her and had no idea where she might be buried. Thanks to our cousin Sharon Crowley, we know that her husband John Wiley Reed is buried in a
Reed plot on Gardenia Road
near Blackville, SC, along with his mother Julia, brother James Henry (my 2g-grandfather), and five other family members. Finding Clemmie's grave gives me hope for my chances of finding my 2g-grandmother Mary Cook Reed's grave.
Six of Wiley and Clemmie Reed's nine recorded children and some of their families are buried at Salem:
Ann Ophelia (1853-1931) and her husband Joseph Middleton Harley (1856-1925)
Charity Eva (1863-1929) and her husband John Flake (1854-1927)
Benjamin W. (1867-1906) and his first wife Arlina C. Harley (1872-1896)
James Wiley (1870-1956) and his wife Donie E. Porter (1876-1956)
Emma Corean Reed Livingston (1872-1953)
Americus (1874-1932) and his wife Margaret Isabelle "Maggie" Livingston (1875-1958)
The three children not at Salem are:
John Daniel Reed (October 15, 1855 – October 19, 1855) – unknown at this time.
George Byron (1857-1929) and his wife Rowella Hydrick (1860-1937) buried at
Bull Swamp Baptist
near North, SC
Click here
for a link to my entry for Clemmie on Find-a-Grave. From there you can navigate to entries for Wiley and all of their children.
Click here
to see all the interments recorded at Salem so far. We weren't home long before Ian and I realized we need to go back (for the third time) to photo some we missed. No problem! It's a lovely drive of only 37 miles from home with lots of family history along the way.
Mixing It Up

Lately I've been finding quite a few cases where our allied families are all intertwined, and this family is no exception. Clemmie was the daughter of Daniel and Charity Hair. Her father was a brother to David Hair who married Lavisa Reed, daughter of Samuel and Mary Clark Reed. Clemmie and her brother Isaiah married siblings, John Wiley and Julia F. Reed, children of John and Julia Odom Reed.
The Livingstons mix in here, too. Emma C. Reed was married to Austin Livingston. Her brother Americus married Austin's niece Maggie, daughter of Austin's twin brother Paul. Maggie's mother was Rachel Hydrick, sister to Rowella Hydrick, wife of George Byron Reed. Top that all off with the fact that Austin and Paul are related to me on my grandmother Carrie Strickland Reed's side of the family! Grandmama's maternal grandmother was Jane Livingston Cupstid who shares the same 2gGF with Austin & Paul, making them third cousins.
In addition to all these Reed relations at Salem, one of the first tombstones you see when you enter the gate is that of Samuel L. and Leila Strickland Boles. Aunt Leila was my grandmother Carrie Strickland Reed's sister.
But wait, here's another: Clemmie and Wiley's son Charles "Charlie" Pickens Reed's first wife was Deborah Knotts (1862-1914). Her grandfather Thomas Jones was my 5g-grandfather on my mother's side of the family. Jeremiah Jones, in whose family cemetery Charlie is buried, was my 4-great grandfather and Deborah Knotts Reed's uncle.
And that's not all … Rowella Hydrick Reed figures into so many of our family members, and I've gone to her Ancestry profile so many times in the last month that I probably should have put the link on my taskbar. I've come to "know" her as an amazing, brave woman, so I will save the Rowella connection for its own post. It will involve Reed, Hydrick, Friday, O'Brien, Boles, Livingston, Robinson ... and more. You'll find out why Ian says he's not going to marry any girl from South Carolina for fear of being kin to her!